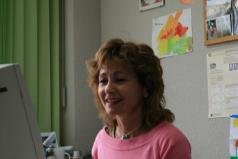 María Emilia Alonso García
Position: Profesora titular de Universidad (Associate professor)
Departament of Algebra, Faculty of Mathematics, UCM (Spain)
Programme MATPUR
e-mail: alonsog@mat.ucm.es
Main recent publications:
M.E. Alonso and D. Haran: Covers of Klein Surfaces, Advances in Geometry 8 (2008), 557-590.
M.E. Alonso, H. Lombardi and H. Perdry: Elementary constructive theory of Henselian local rings, Math. Log. Quart. 54 (2008), 253-271.