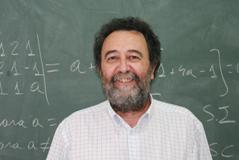 Sixto Jesús Álvarez Contreras
Position: Profesor titular de universidad (Associate professor)
Department of Applied Mathematics, Faculty of Mathematics, UCM (Spain)
Programme MODySIM
e-mail: sixtoj_alvarez@mat.ucm.es
web: http://www.mat.ucm.es/~sjalvare
Main recent publications:
S.J. Álvarez and J.M. Rey (Eds.): Libro-Homenaje a José María Fraile Peláez, Universidad Complutense de Madrid. Área de Ciencias Exactas y de la Naturaleza, 2008, 192 p., ISBN: 978-84-691-7747-1.

S.J. Álvarez, J.A. Infante, B. Ivorra, A.M. Ramos and J.M. Rey: Modelling and simulation of high pressure processes in food engineering, CD-ROM: Proceedings of the Congress on Numerical Methods in Engineering 2007.