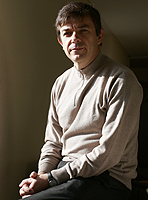 Carlos Andradas Heranz
Position: Catedrático de universidad (Professor)
Department of Algebra,

Faculty of Mathematics, UCM (Spain)


Programme MATPUR
e-mail: Carlos_Andradas@mat.ucm.es
web: www.mat.ucm.es/deptos/al/personal/carlos/home.html
Main recent publications:
C. Andradas, T. Recio, J.R. Sendra and L.F. Tabera: On the simplification of the coefficients of a parametrization, J. Symbolic Comput. 44 (2009), no. 2, 192-210.

C. Andradas and T. Recio: Plotting missing points and branches of real parametric curves, Applicable Algebra in Engineering, Communication and Computing, 18 (2007), 107-126.