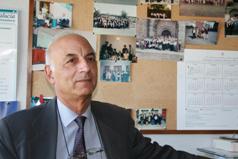 Fernando Bombal Gordón
Position: Catedrático de universidad (Professor)
Department of Mathematical Analysis,

Faculty of Mathematics, UCM (Spain)


Programme 2006-2009 CRYPTOQUANT
e-mail: bombal@mat.ucm.es
web: http://matnfs.mat.ucm.es/~bombal/indice-personal.html
Research interests:
Structure and geometry of Banach spaces.
Operators in Banach function spaces.
Topological tensor products of Banach spaces.
Main recent publications:
Bombal, F. "El análisis infinitesimal en Euler". En La Obra de Euler, ISBN 978-84-8559-66-4, págs.. 209-228. Instituto de España, 2009
F. Bombal, J.M. Gutiérrez and I. Villanueva: Derivative and factorization of holomorphic functions, J. Math. Anal. Appl. 348 (2008), no. 1, 444-453.
F. Bombal: Continuous multilinear operators on C(K) spaces and polymeasures, Extracta Math. 22 (2007), no. 2, 127-146.
F. Bombal, D. Pérez-García and I. Villanueva: A decomposition theorem for polymeasures, J. Math. Anal. Appl. 336 (2007), no. 2, 1316-1323.
F. Bombal: Alexander Grothendieck's work on functional analysis, Advanced courses of mathematical analysis II, 16-36, World Sci. Publ., Hackensack, NJ, 2007.