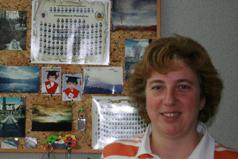 María Teresa Ortuño Sánchez
Position: Profesora titular de universidad (Associate professor)
Department of Statistics and Operations Research I

, Faculty of Mathematics, UCM (Spain)


Programme TID
e-mail: tortuno@mat.ucm.es
web: http://www.mat.ucm.es/deptos/es/profesorado/
Research interests:
Integer Programming and Combinatorial Optimization (Routing Problems).
Integer Stochastic Programming (Branch-and-Fix Coordination).
Decision Support Models (Humanitarian Logistics, among others).

Main recent publications:
A. Felipe, M.T. Ortuño, G. Tirado, "The Double Traveling Salesman Problem with Multiple Stacks: a Variable Neighborhood Search Approach", Computers & Operations Research. 36, pp. 2983 -2993. (2009).
A. Felipe, M.T. Ortuño, G. Tirado. "New Neighborhood structures to solve the Double Traveling salesman problem with multiple stacks". Top 17. pp. 190-213 (2009)
B. Vitoriano, M.T. Ortuño y A.F. Ruiz-Rivas, « A Goal Programming Model for Humanitarian Aid Distribution », Libro Computational Intelligence in Decision and Control ISBN 978-981-279-946-3 Volumen: 1 Páginas, inicial: 811 final: 816 Fecha: Septiembre 2008 Editorial (si libro): World Scientific Publishing Lugar de publicación: Singapur
Alonso-Ayuso, A.; Escudero, L. F.; Ortuño, M. T.; Pizarro, C. On a stochastic sequencing and scheduling problem. Comput. Oper. Res. 34 (2007), no. 9, 2604--2624.