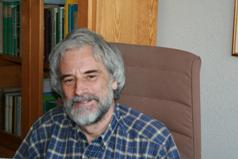 José Manuel Rodríguez Sanjurjo
Position: Catedrático de universidad (Professor)
Department of Geometry and Topology, Faculty of Mathematics, UCM (Spain)
Programme MATPUR
e-mail: jose_sanjurjo@mat.ucm.es
Research interests:
Geometric Topology.
Shape Theory.
Topology of Dynamical Systems.
Main recent publications:
A.Giraldo, J.M.R. Sanjurjo,Topological robustness of non-saddle sets. Topology Appl. 156 (2009) 1929-1936
A. Giraldo, R. Jiménez, M.A. Morón, F.R. Ruiz del Portal, J.M.R. Sanjurjo, Pointed shape and global attractors for metrizable spaces, Topology Appl. publicado online el 15 de Septiembre 2010.
J.M.R. Sanjurjo, Singular continuations of attractors. SIAM Journal of Appl. Dynamical Systems 8 (2009), 554-575.
J.M.R. Sanjurjo, Shape and Conley index of attractors and isolated invariant sets. Chapter of the book Differential equations, chaos and variational problems, 393-406, Progr. Nonlinear Differential Equations Appl., 75, Birkhäuser, Basel, 2008.