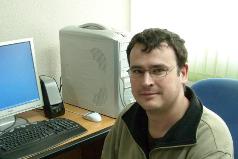 Víctor Manuel Sánchez de los Reyes
Position: Profesor contratado doctor
Department of Mathematical Analysis

, Faculty of Mathematics, UCM (Spain)


Programme MATPUR
e-mail: victor_sanchez@mat.ucm.es
web: http://www.mat.ucm.es/deptos/am/victorms/victor.htm
Research interests:
Rearrangement invariant spaces and strictly singular operators.
Lineability.
Polynomial inequalities.
Main recent publications:
J.L. Gámez, G.A. Muñoz, V.M. Sánchez y J.B. Seoane. Sierpinski-Zygmund functions and other problems on lineability. Proc. Amer. Math. Soc. 138 (2010), 3863-3876
G.A. Muñoz, V.M. Sánchez y J.B. Seoane. Estimates on the derivative of a polynomial with a curved majorant using convex techniques. J. Convex Anal. 17 (2010), 241-252
D. Azagra, G.A. Muñoz-Fernández, V.M. Sánchez, J.B. Seoane-Sepúlveda; Riemann integrability and Lebesgue measurability of the composite function. J. Math. Anal. Appl. 354 (2009), 229-233
Hernández, Francisco L.; Sánchez, Víctor M.; Semenov, Evgeny M. Strictly singular inclusions into $L\sp 1+L\sp \infty$. Math. Z. 258 (2008), no. 1, 87--106.