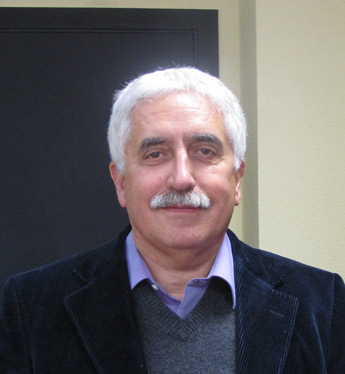 Nicola Bellomo
Position: Professor
Politecnico de Torino, Italy
Facoltŕ d'Ingegneria
e-mail: nicola.bellomo@polito.it
site: http://staff.polito.it/nicola.bellomo/
Visiting IMI from April 21st, to 23rd, 2010. During his stay he conducted joint reseach work on complex system with IMI members.

Research interests:
Analytic and computational methods for nonlinear problems in applied sciences;
Mathematical aspects of complex systems;
Mathematical models in immunology and biology;
Mathematical methods in nonlinear kinetic theory;
Random differential equations and applications;
Mechanisms theory and robotics.
Main recent publications:
N. BELLOMO; A. BELLOUQUID; J. NIETO; J. SOLER, Complexity and mathematical tools toward the modelling of multicellular growing systems, Math. Comput. Modelling, 51, (2010), 441-551.
N. BELLOMO; M. DELITALA, On the coupling of higher and lower scales using the mathematical kinetic theory of active particles, Appl. Math. Lett., 22, (2009), 646-650.
N. BELLOMO; C. BIANCA; M. DELITALA, Complexity analysis and mathematical tools towards the modelling of living systems , Physics of Life Reviews, 6, (2009), 144-175.
N. BELLOMO; A. BELLOUQUID; J. SOLER, From the mathematical kinetic theory for active particles on the derivation of hyperbolic macroscopic tissue models, Math. Comput. Modelling, 49, (2009), 2083-2093.
N. BELLOMO; A. BELLOUQUID, On the derivation of macroscopic hyperbolic equations for binary multicellular growing mixtures, Comput. Math. Appl., 57, (2009), 744-756.