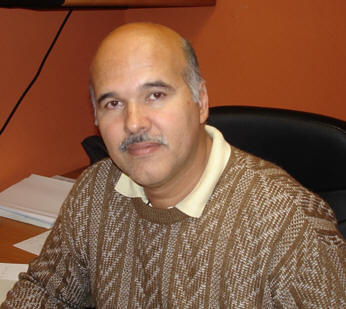 Reinaldo Rodríguez Ramos
Position:

Full Professor


Universidad de la Habana, Cuba
Facultad de Matemática y Computación
e-mail: reinaldo@matcom.uh.cu
Visiting IMI from January 21 to February, 2010

Research interests:
Prediction of static properties of heterogeneous media for a periodic structure provided by the Asymptotic Homogenization Method.
Prediction of dynamic properties of randomly distributed heterogeneous media.
Variational methods for bounding effective properties of composites linear and nonlinear.
Numerical Methods and Homogenization.
Wave propagation in heterogeneous media.
Main recent publications
Bravo-Castillero, J., Rodríguez-Ramos, R., M. Mechkour, Otero, J.A., Sabina, F. Homogenization of magneto-electro-elastic multilaminated materials.

Quarterly Journal of Mechanics and Applied Mathematics,

Vol. 61, No. 3, 311-332, 2008.

H. Brito–Santana, R. Rodríguez–Ramos,

R. Guinovart–Díaz, J. Bravo–Castillero, F. J. Sabina, G. A. Maugin.

Unified formulae of variational bounds for multiphase anisotropic elastic composites. Archive of Applied Mechanics, 79: 189-204, 2009.
Héctor Camacho-Montes, F.J. Sabina, Julián Bravo-Castillero, Raúl Guinovart-Díaz, Reinaldo Rodríguez-Ramos. Magnetoelectric coupling and cross-property connections in a square array of a binary composite. International Journal of Engineering Science 47, 294–312, 2009.

R. Rodriguez-Ramos

, R. Guinovart-Diaz, J. Bravo-Castillero, F. J. Sabina, H. Berger, S. Kari, U. Gabbert.

Variational bounds for anisotropic elastic multiphase composites with different shapes of inclusions. Archive of Applied Mechanics, 2008. doi: 10.1007/s00419-008-0246-1, 2008.
L.D. Pérez-Fernández, J. Bravo-Castillero, R. Rodríguez-Ramos, F.J. Sabina. On the constitutive relations and energy potentials of linear thermo-magneto-electro-elasticity. Mechanics Research Communications, Volume 36, Issue 3, 343-350, 2009.