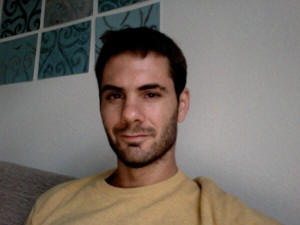 Alejo Salles
Position: Postoctoral student
University of Copenhague, Denmark
e-mail: salles@nbi.dk
site: http://www.nbi.dk/~salles/Home.html
Visiting IMI from November 22 to December 22, 2010

Research interests:
Quantum Systems
Quantum Information theory
Recent publications:
R. M. de Morais Gomes, A. Salles, F. Toscano, P. H. Souto Ribeiro, S. P. Walborn. Observation of a Non-local Optical Vortex, Physical Review Letters 103, 033602 (2009); arXiv:0902.1659
L. Aolita, D. Cavalcanti, A. Acín, A. Salles, M. Tiersch, A. Buchleitner, F. de Melo. Scalability of Greenberger-Horne-Zeilinger and random-state entanglement in the presence of decoherence, Physical Review A 79, 032322 (2009); arXiv:0812.4203.
A. Salles, F. de Melo, M. P. Almeida, M. Hor–Meyll, S. P. Walborn, P. H. Souto Ribeiro, L. Davidovich. Experimental investigation of the dynamics of entanglement: Sudden death, complementarity, and continuous monitoring of the environment, Physical Review A 78, 022322 (2008); arXiv:0804.4556.