Programme
Monday 22-11-2010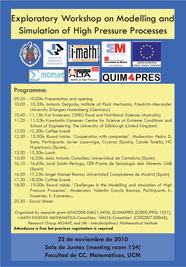 09.55 - 10.00h: Presentation and opening
10.00 - 10.35h: Antonio Delgado; Institute of Fluid Mechanics, Friedrich-Alexander University Erlangen-Nuremberg (Germany), Modelling and Simulation of thermofluiddynamical aspects for adaptive control strategies of high pressure processes
10.40 - 11.15h: Kai Knoerzer; CSIRO Food and Nutritional Sciences (Australia), Tools to Assist the Evaluation and Optimisation of High Pressure Thermal Processing Technology
11.20 - 11.55h: Konstantin Kamenev; Centre for Science at Extreme Conditions and School of Engineering. The University of Edinburgh (United Kingdom), Use of Finite Element Analysis in Designing Instrumentation for High Pressure Research
12.00 - 12.30h: Coffee break
12.30 - 13.30h: Round table: "Cooperation with companies". Moderator: Pedro D. Sanz. Participants: Javier Luzarraga, Cryovac (Spain); Carole Tonello, NC Hyperbaric (Spain)....
13.30 - 15.30h: Lunch
15:30 - 16.05h: Jesús Antonio González; Universidad de Cantabria (Spain), New Diamond Anvil Cell for optical and transport measurements under high magnetic fields up to 60 T
16.10 - 16.45h: Jordi Saldo Periago; CER Planta de Tecnologia dels Aliments. UAB (Spain), Are pressure release and pressure increase rates relevant parameters on food treatment modelling?
16.50 - 17.25h: Ángel Manuel Ramos; Universidad Complutense de Madrid (Spain), Modelling high pressure processes in Food Engineering
17.30 - 18.00h: Coffee break
18:30 - 19.00h: Round table: "Challenges in the Modelling and simulation of High Pressure Processes". Moderator: Valentin García Baonza. Participants: K. Knoerzer, K. Kamenev,...
20.30: Social dinner. Restaurante La Montaña (Calle Andrés Mellado, 3).