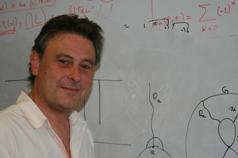 Francisco Romero Ruiz del Portal
Position: Profesor titular de universidad
Department of Geometry and Topology, Faculty of Mathematics, UCM (Spain)
Programme MATPUR
e-mail: r_portal@mat.ucm.es
web: http://www.mat.ucm.es/~rrportal/
Research interests:
Geometric Topology. Shape Theory.
Dynamical systems. Fixed point theory.
Main recent publications:
Dynamics around index 1 fixed points of orientation reversing planar homeomorphisms (with J.M. Salazar, preprint)

Attractors with irrational rotation number (with L. Hernández-Corbato and R. Ortega) (Math. Proc. Cambridge Phil. Soc. Accepted).

Attractors with vanishing rotation number (with R. Ortega) (Journal European Math. Soc. 13 (2011) 1567-1588).

Local fixed point indices of iterations of planar maps (with G. Graff and P. Nowak-Przygodzki). (J. Dynamics and Diff. Equations, 23 (2011) 213-223).

Pointed shape and global attractors for metrizable spaces (with A. Giraldo, R. Jiménez, M.A. Morón and J.M.R. Sanjurjo). (Topology and its Appl. 158, (2011) 167-176).

Fixed point indices of the iterates of R3-homeomorphisms at fixed points which are isolated invariant sets (with P. Le Calvez and J. M. Salazar) (Journal of the London Math. Soc. 82 (2) (2010) 683-696).

F.R. Ruiz del Portal, J.M. Salazar. Realization of all Dold's congruences with stability. Journal of Differential Equations, 249 (2010) 989-1013

F.R. Ruiz del Portal, J.M. Salazar. A Poincaré formula for the fixed point indices of arbitrary of planar homeomorphims. Fixed Point Theory and its Applications ID233069 (2010) 1-31.

Ruiz del Portal, Francisco R.; Salazar, José M. Indices of the iterates of $\Bbb R\sp 3$-homeomorphisms at Lyapunov stable fixed points. J. Differential Equations 244 (2008), no. 5, 1141--1156.

J. Dydak, F. R. Ruiz del Portal, « Monomorphisms and epimorphisms in pro-categories.", Topology and its Appl. 154 (2007) 2204-2222.